---
US Secretary of State describes China rogue nation which escalated border tension with India
Author: indiadmin June 22, 2020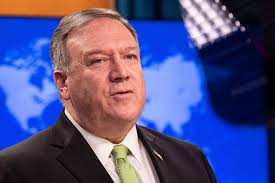 In a hard hitting speech, US Secretary of State Mike Pompeo has described China a rogue nation which escalated border tension with India.
During an online conference on democracy at Copenhagen in Denmark, he said, People's Liberation Army of China has escalated border tensions with India, the world's largest democracy.
Pompeo said, China is militarising the South China Sea and illegally claiming more territory there, threatening vital sea lanes. He said democracies and freedom-loving peoples of the world needed to come together to tackle China.
Pompeo said Chinese President Xi Jinping has green-lighted a brutal campaign of repression against Chinese Muslims, a human rights violation on a scale we have not seen since World War II.